There is a lot of change happening in the Garfield Historic District in downtown Phoenix. A lot of new multifamily development is taking place there, some of it includes apartment buildings with many units on several floors. We have been working with a client who lives in the Garfield Historic District in a single-family house wanted to build a duplex in the back of his single-family house to rent out. His lot is zoned R-3, which means he can have more than a single dwelling on the property.
This is why it was a great idea:
Usually, rental units come as part of large apartment buildings with tens of units. Living in a unit with tens of identical units around you in a sea of parking can feel soulless and isolating. But living in a unit that is part of a duplex, triplex or quadplex has a lot of the benefits of living in a single-family house as well as the benefits of living in a multifamily arrangement. You get your own backyard, get a neighbor or two, and you have direct, first-floor access to the outdoors. Plus, instead of being isolated inside a large apartment complex, you are more directly connected with the neighborhood.
This duplex will create an affordable housing option in a very coveted neighborhood in Downtown Phoenix, one where housing prices are continuing to rise.
The physical scale of a duplex fits in perfectly with the historic single-family character of the Garfield Neighborhood while also providing affordable housing during a housing and affordable housing crisis.
A duplex adds gentle density to an existing historic neighborhood. No doubt Phoenix is spread out, including even our downtown core. We could certainly use more density to create walkability and more affordable housing, for example. But instead of adding a shock of very dense housing, like a 50-unit or more apartment building, adding small multi-family housing like duplexes, triplexes, and quadplexes go a long way in adding density, but in a gentler way. Small multi-family buildings like this are called missing-middle housing because our cities are full of single-family housing and large apartment complexes, but we are missing that middle scale of housing in between those two extremes.
Why it was so hard to get this great idea approved by the city:
The city of Phoenix has two categories of zoning policies for residential buildings. One is for single-family residential, which includes up to two dwellings on one property. The other is multifamily residential, which is anything over two dwellings. This means they apply the same policies for three units on a property as they do with 300 units on a property.
The above is a problem for missing middle housing, which usually occurs on small urban lots. In this case, this project is located on a 50-foot x 150-foot lot, which is the typical urban lot size for a single residence. However, the zoning allowed three units on this site.
Even though the zoning allowed for 3 units on the site, we had to get four variances to make the project work. Part of the reason is that we had to get Historic Preservation approval and so we designed a single-story duplex instead of a 2-story duplex because it fits in better with the historic character of the neighborhood.
A single-story duplex took up more space on the lot and left no room for some of the stringent multifamily zoning requirements, such as 5'-0" landscape setbacks on both the sides and rear of the lot, vehicle maneuvering on site for the duplex parking and a 5% open space requirement.
Because this was considered a multifamily development, the city required a whole new level of review than it would for a single-family or two-dwelling residential project. It required special site plan approval, a separate civil review, and a separate landscape review. The extra reviews cost the client a tremendous amount of time and money. It took two years for this project to be approved. The onerous multifamily process to get missing middle housing approved discourages this much-needed scale of housing.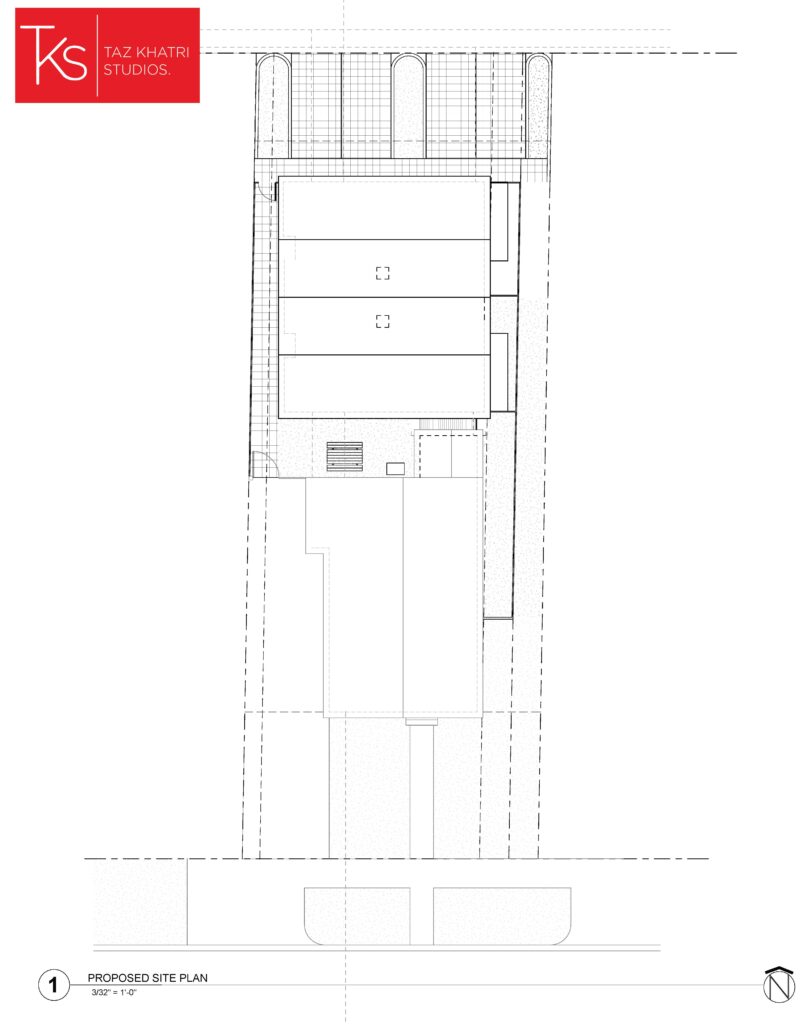 The bottom line is that even though this project was much closer in size to a single-family residence, the city treated it as if it was a 100-unit apartment complex. The city of Phoenix needs to add more nuance to the zoning code and make it friendlier to missing middle projects. As it is, the zoning regulations punish folks who want to add a little more density to their lots and encourage homeowners to have a maximum of two dwellings on their lots even when the zoning of their property allows for more units.
I am excited to have this duplex built in the Garfield neighborhood and count it as a success towards adding more missing middle housing in Phoenix. I hope this project will serve as a catalyst for more such gentle density, especially within historic and other urban neighborhoods. Ultimately, I hope the City of Phoenix changes its zoning ordinance to encourage the diversity of housing that is needed in the city to address our housing shortage.