Natalie's detached garage in the back of her house in the Historic Garfield District was clean but sat empty and most recently was home to a pile of things not people. Natalie and her husband Chris decided that the garage, which came outfitted with a lovely porch, was meant for more than just storage, either for a car or for forgotten items collecting dust, so they called me to draw up some plans for a contractor they had been working with. They envisioned bringing life to the space as an office, a work out room, an art studio or even a detached bedroom.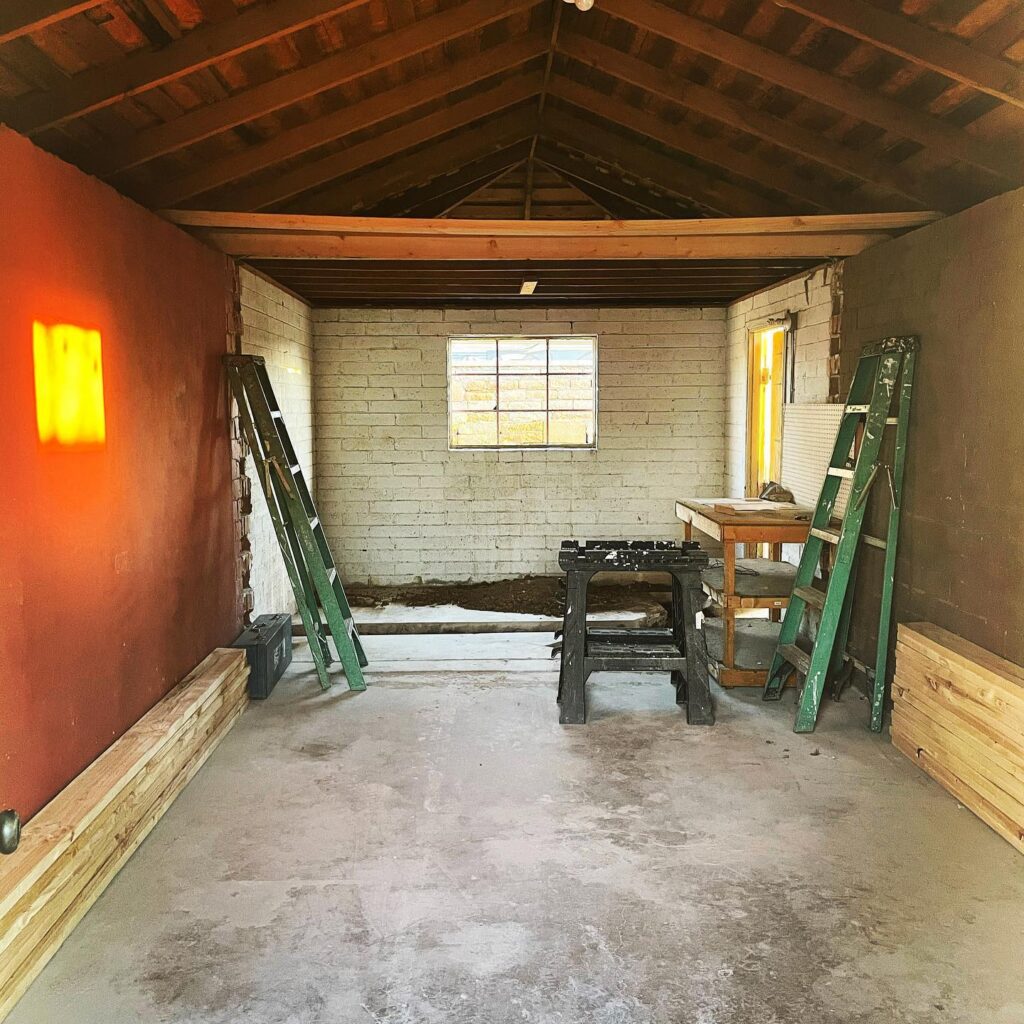 The couple wanted to keep the space flexible but wanted to provide a bathroom and possibly a small kitchenette, which makes it usable in a lot of different ways. The problem was that the garage was only 323 square feet and with Natalie's and Chris's budget, adding more square footage was not an option. To provide as much open, flexible space as possible with a bathroom and a small area for a kitchenette while bringing in lots of daylight AND keeping to a tight budget required some gymnastics but we achieved their goals. Here is a floor plan of the tiny garage and how we maximized the square footage: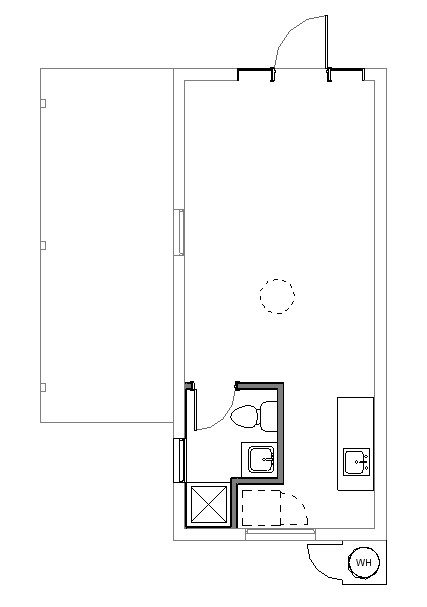 THE BENEFITS OF SPRUCING UP THE DETACHED GARAGE:
Natalie and Chris recognized the value of this modest out building sitting on their property. They knew that if they made it an inhabitable space that it would add a great deal of value to their property.
Another benefit of sprucing up an accessory building you may have on your property is that you are able to add affordable housing options during a time that there is a housing shortage and most definitely an affordable housing shortage. Accessory dwelling units provide an option to those who couldn't normally afford to live in desirable neighborhoods in Central Phoenix. And don't forget, accessory dwelling units are a great way to generate passive rental income to help pay your mortgage!
Unfortunately, Natalie and Chris's remodel of the garage can't legally be recognized as a dwelling unit. Read on to find out why. Nevertheless, they have added tremendous value to their property by providing a beautiful, usable, flexible building for a personal office, art studio, work out room, man/woman cave, you name it!
SOME TAKEAWAYS FROM NATALIE AND CHRIS'S PROJECT THAT MIGHT HELP YOU:
Permit By Inspection: Because the project was small and didn't have any structural changes, we used the Permit By Inspection program that is available at the City of Phoenix. This program allows plans to be reviewed at the job site by inspectors, at which point they issue a permit to start construction. Permit by Inspection expedites small projects by weeks and months potentially. To see if your residential project qualifies for Permit by Inspection, click here.
A Legal Dwelling?: Legally, Natalie and Chris's newly usable detached building cannot be called a dwelling even though the property is zoned for multifamily housing. This is because the garage, where it is situated, does not comply with the required setbacks for a dwelling. The minimum side setback for a dwelling for this property is 3 feet but the garage was located only about 1 foot from the property line. For a non-livable detached structure, such as a personal office or art studio, this location worked fine. As such, we were not allowed to make any mention of a "cooking facility" such as a stove or a future stove in the drawings because in that case it could be used as a dwelling. This is another case where our zoning requirements are behind the actual way people use land and should use land. Especially in Phoenix our zoning laws revolve around single-family housing and there are all sorts of hurdles embedded in it to prevent every day homeowners from adding affordable density to their neighborhoods. If you are looking to add a detached inhabitable space to your home, contact me and we can talk about ways to work with the current zoning laws.
Interior renovations go a long way: Natalie and Chris's budget was tight so to make the project feasible we did not make any new openings in the building and just replaced the existing windows with the same size, more energy efficient windows in the same location. In addition, because we did not alter the exterior by adding new window or door openings, we avoided having to get Historic Preservation approval that would be required because this property is located in the Garfield Historic District, saving Natalie and Chris a great deal of time.
Here are some photographs Natalie took of the completed space: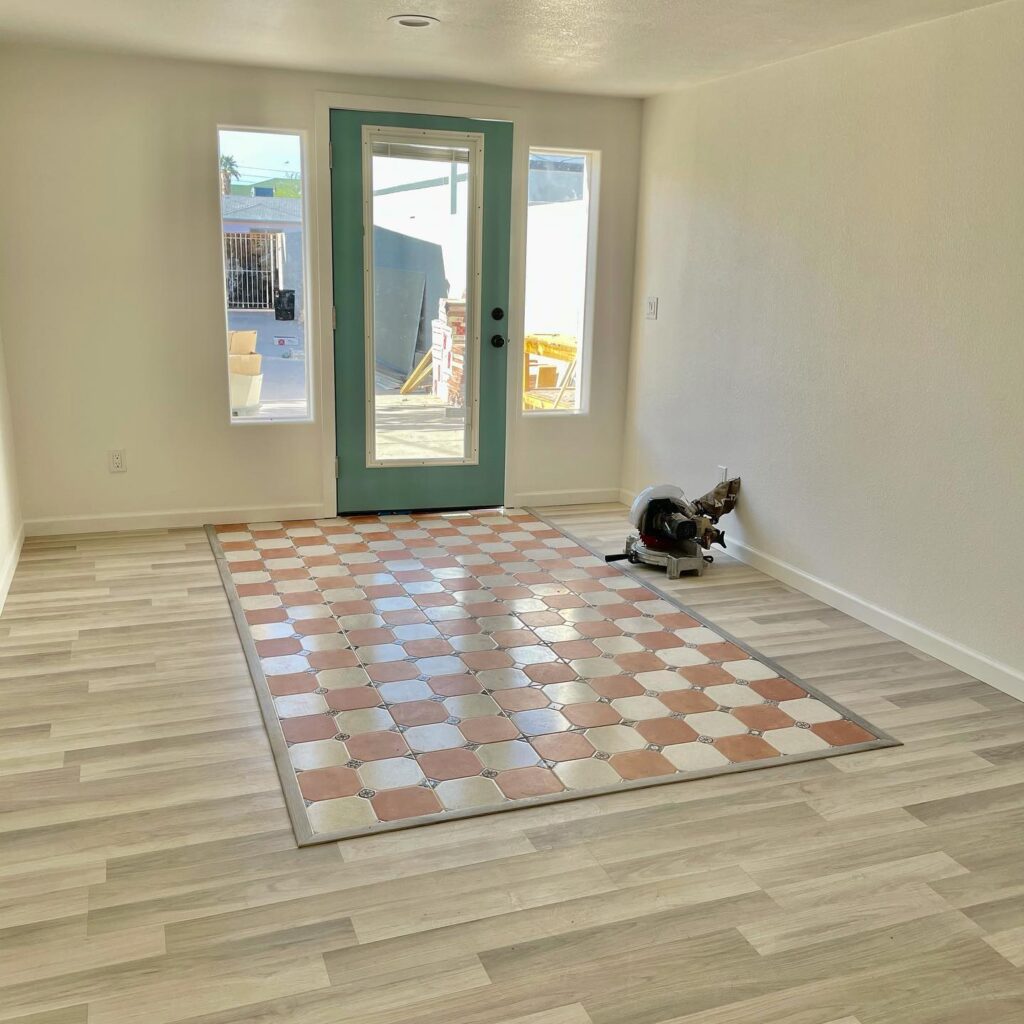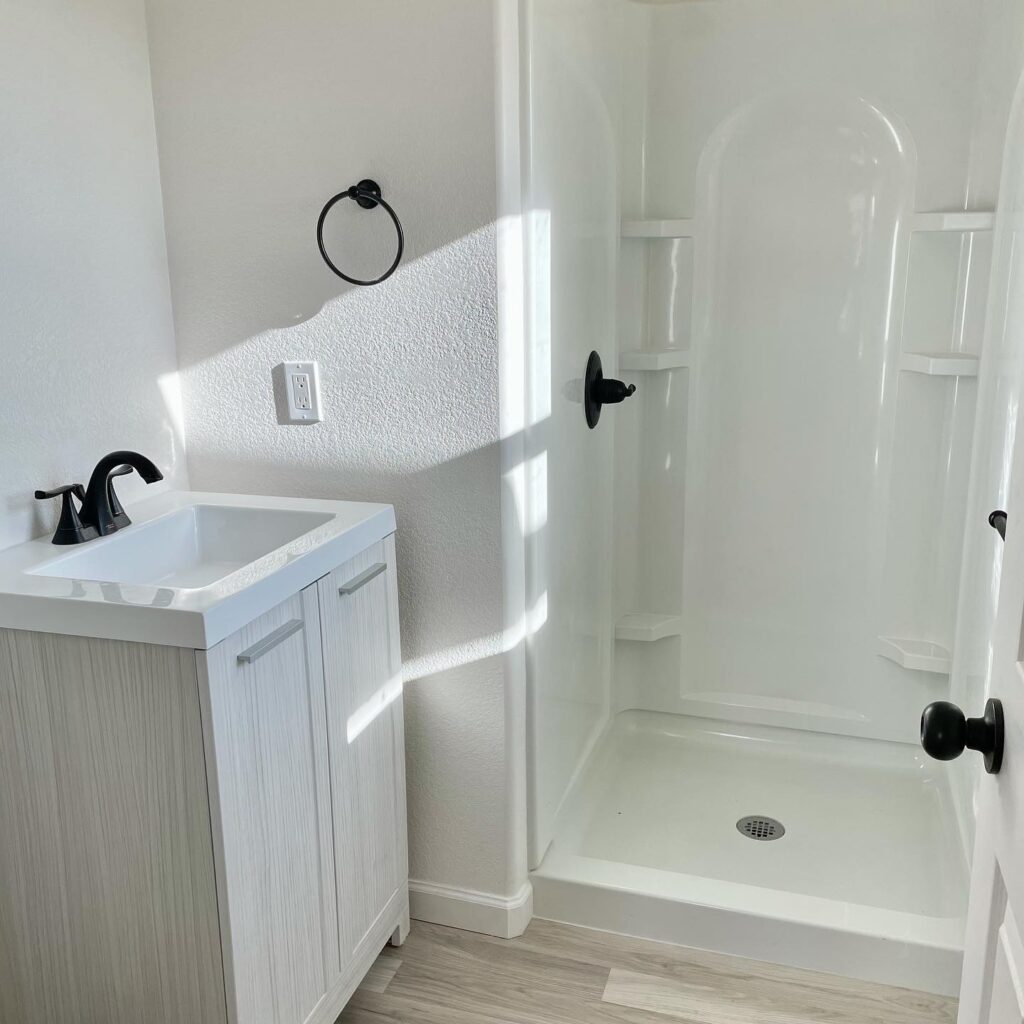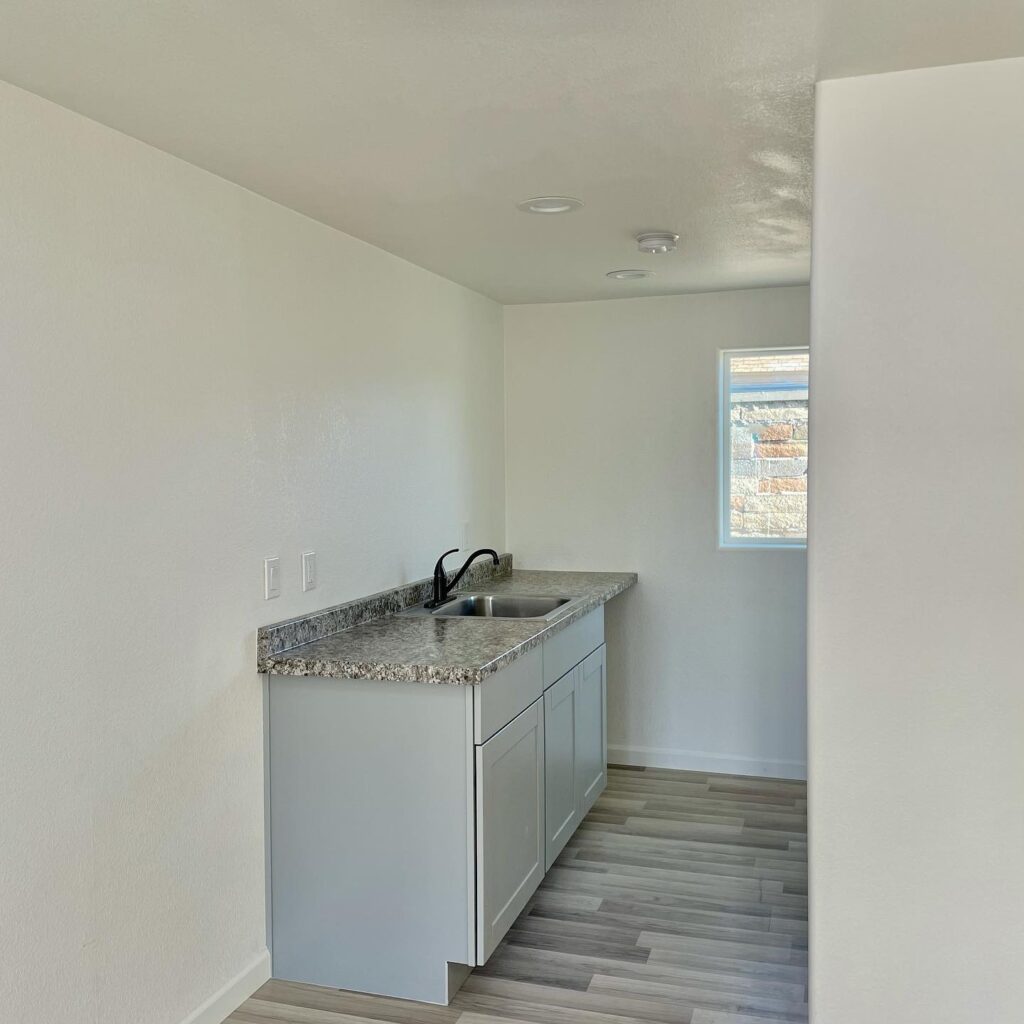 I want to give a shout out to the great builder that lead the project to a resounding success – Larry Hargrove of Trendline Home Services.
All photos by Natalie Rachel Morris.